Best known for its distinct style, charm, and cultural influence it's had on Vilnius, the Neringa restaurant has been an integral part of Gediminas Avenue's character since it first opened on November 6, 1959. Brothers Algimantas and Vytautas Nasvyčiai were the architects of Neringa's original concept and name, which are intrinsic to its contemporary ambiance and artistic value.
The restaurant draws its inspiration from a fairytale written by Mykolas Sluckis, which recounts the legendary origin story of Neringa – Lithuania's Curonian Spit. The story involves a poor fisherman's daughter named Neringa, who is said to have poured out the sand dunes that form the Curonian Spit, and Naglis, who helped her save the spit from a sea dragon intent on destroying it.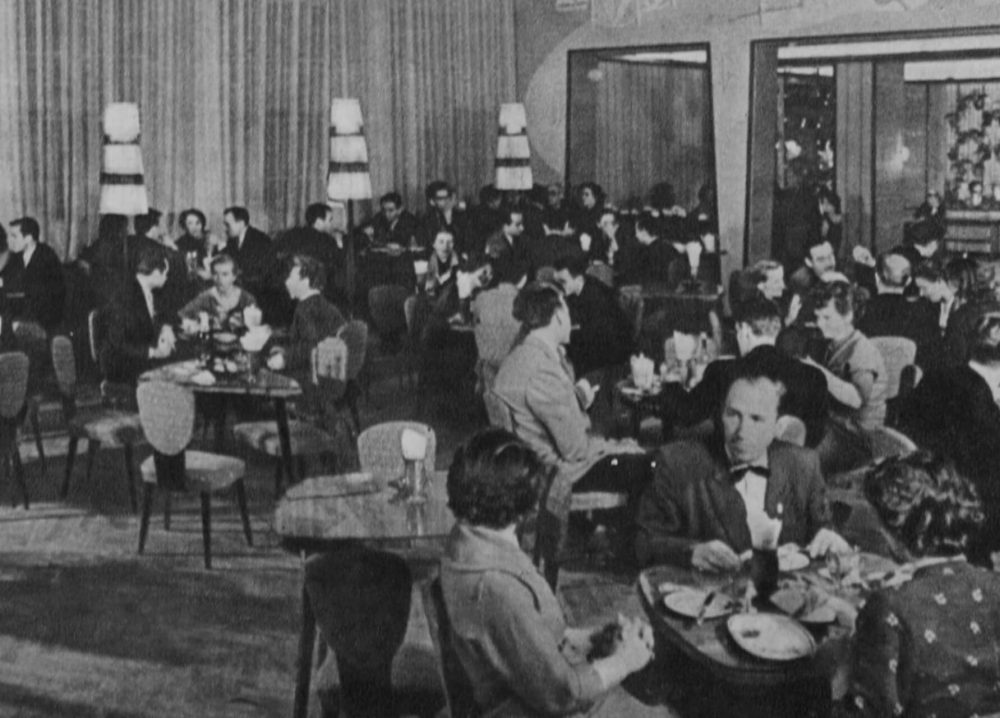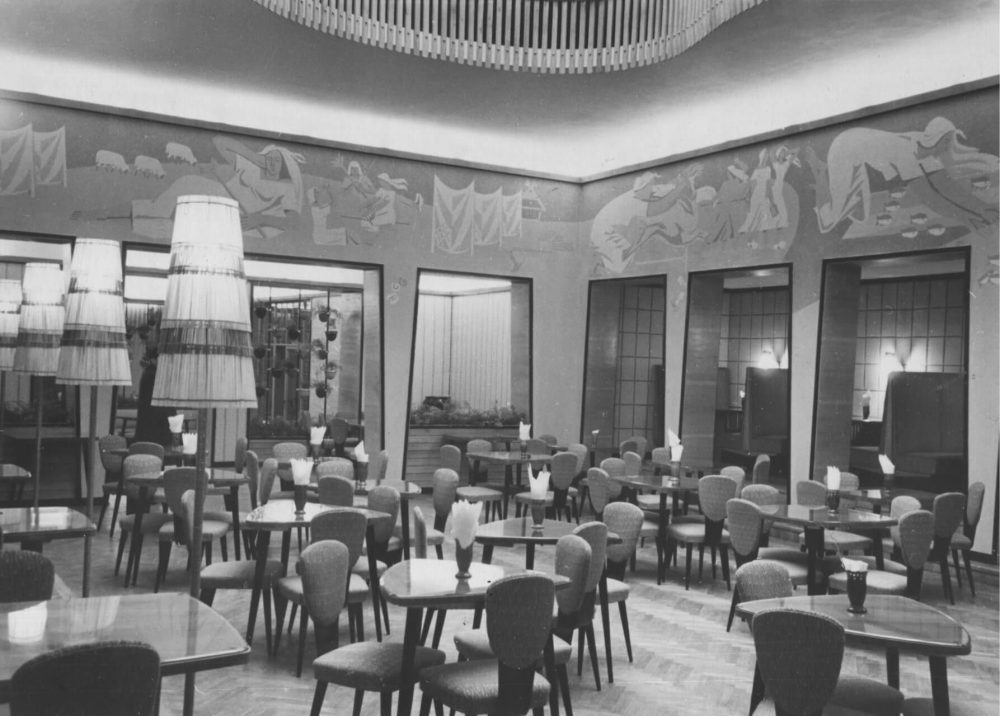 "Neringa and Naglis are the main characters of the book. We loved the legend, especially since it brought back memories from our childhood summers that we spent together with our parents in Neringa. The name just stuck with us. Neringa is all about the sea, dunes, sand, blue skies, bulrush. When creating the interior, we played with the irregular shapes, and shifting lines of the coastal nature." - Algimantas Nasvytis
The Nasvyčiai brothers engaged many artist friends to bring their project to life. Neringa was appointed with well-crafted details, soft round-shaped furniture, ambient lighting, and an abundance of plants, giving it a cozy atmosphere. The dining space consists of two halls – the back wall of the smaller hall draws the eye to a sunken relief by Juozas Kėdainis titled Rest by the Sea, while the focal wall of the larger hall illustrates the legend of Neringa and Naglis, painted by Vladas Jankauskas and Vytautas Povilaitis. These unique features and elements secured a landmark designation among the State Protected Monuments of Lithuanian Architecture. Tapestries for furniture and walls were conceived and executed by textile artist Vladas Daujotas. The stained glass wall located behind the restaurant's bar that illustrates the underwater world by the sea in 1959 was created by Antanas Garbauskas.
PADANGĖ
SUTEMO,
SAULĖ
PAJUODO.
JŪRA
PAŠĖLO
IR,
BANGŲ
LIEŽUVIAI
PRADĖJO
LAIŽYTI
NERINGAI
BALTĄSIAS
RANKAS...
NERINGA
PAMATĖ
JŪROS
JUODŲ
BANGŲ
BLAŠKOMUS
KAIP
SKIEDRELES
TRIS
ŽVEJŲ
LAIVUS.
PADANGĖ
SUTEMO,
SAULĖ
PAJUODO.
JŪRA
PAŠĖLO
IR,
BANGŲ
LIEŽUVIAI
PRADĖJO
LAIŽYTI
NERINGAI
BALTĄSIAS
RANKAS...
NERINGA
PAMATĖ
JŪROS
JUODŲ
BANGŲ
BLAŠKOMUS
KAIP
SKIEDRELES
TRIS
ŽVEJŲ
LAIVUS.
Beyond its aesthetic appeal, it's the diners that made Neringa such a famed locale in Vilnius. It quickly became a favorite hangout for intellectuals, writers, poets, musicians, academics, doctors, and actors, who loved to dine and party until dawn.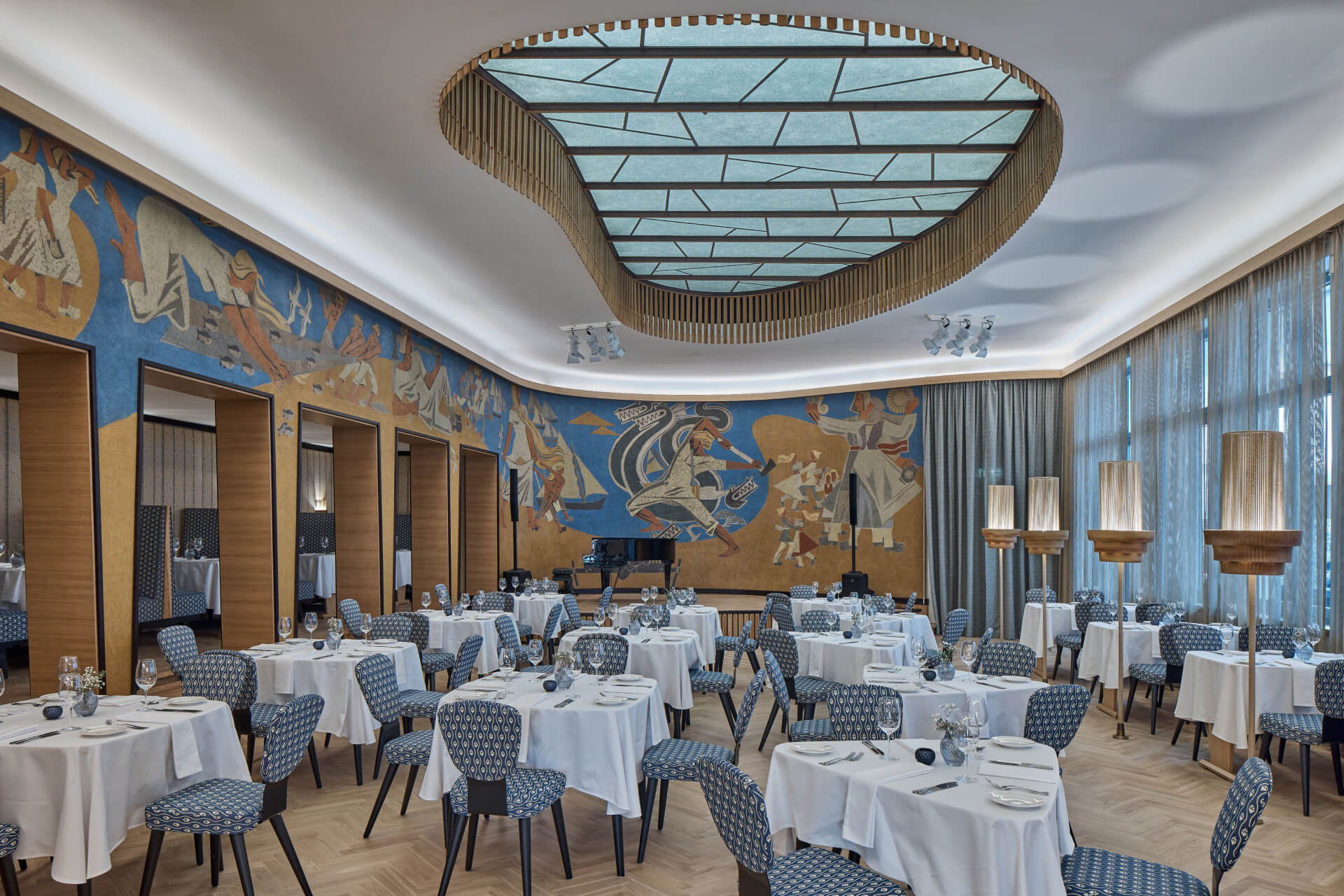 For a long time, Neringa was a place where people gathered to engage in cultural discourse about music, arts, and urban lifestyle. Local intelligentsia engaged in political talks, challenging the status quo and dreaming of a brighter future, despite the risks these ideas might have posed. With jazz music being considered a form of dissidence by the establishment thereupon, Neringa became the perfect hideout to host coveted jazz shows featuring a trio formed by Vyacheslav Ganelin, Vladimir Chekasin, and Vladimir Tarasov. The ambiance, paired with refined cuisine, put Neringa on the map as a destination restaurant.
In 2017, the building housing Neringa and its namesake hotel closed for a major renovation project. A major overhaul involved key upgrades to safety, comfort, and energy efficiency, involving the latest advancements in construction technology while preserving the building's original facade, authentic interior, and works of art, highlighting Neringa's historical value and heritage.
Aside from its iconic architecture and atmosphere, diners enjoy Neringa's refined cuisine and top-class service. In addition to its seasonal menu, the restaurant prides itself on the iconic dishes that were served 50 years ago and have remained popular to this day.
Feel the legend.